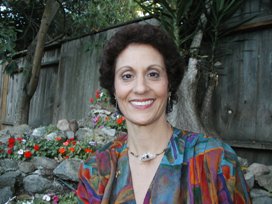 The Joy Of Loving Myself
by Rayna Lumbard, MA, LMFT, MHT
We've heard it all before, "All you need is love" and "Love is all you need." But how many songs and conversations really focus on loving ourselves? In today's stressed out world we are bombarded with the brutality of war, injustice, microbial pandemics, natural and ecological disasters, and terrorism. How many of us really take the time to think about spreading good old-fashioned love power to fortify our own being and work together to save our precious world?

(READ MORE)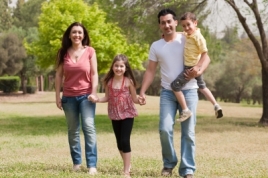 Bringing Out the Best in Your Kids
by Rayna Lumbard, MA, LMFT, MHT
Bringing up kids is akin to building a special project from scratch. Trusting your instincts and applying what you have learned from past experience is helpful in both cases. But in the process of raising kids, what happens when your special project does not come with a detailed instruction manual? Remember when you were a new parent? How long did it take for your patience to run out? How many times now do your positive intentions toward your children turn sour? How long are we going to keep blaming each other for the problems we face?.

(READ MORE)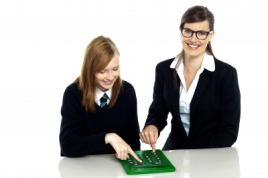 Applying Psychological Science and the Healing Arts to Foster Positive Teacher-Student Relationships
by Rayna Lumbard, MA, LMFT, MHT
Improving students' relationships with teachers has important positive and long-lasting implications in students' academic, emotional and social development. The focus in this article is to explore what is a healthy relationship between a student and a teacher, why it matters, and how to cultivate these supportive and caring relationships at school.
What does it mean to be an effective high school teacher? How do their different teaching methods and personalities impact students' academic performance, social/emotional development, and enjoyment of learning?

(READ MORE)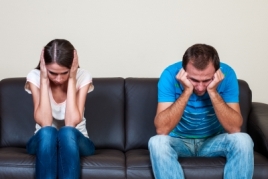 Divorce As A Growth Process
The Parents Guide
by Rayna Lumbard, MA, LMFT, MHT
Every relationship has a beginning, middle and end. Even though a couple's love can be very strong during their marriage, love alone is not enough to keep their relationship healthy and fulfilling. Couples who learn to deal with conflict by communicating their differences in constructive ways can weather the "storms" that show up in every marriage. When emotional damage from these storms is too great, one or both of them may feel too resentful or hopeless to stay together, choosing divorce as the only option.

(READ MORE)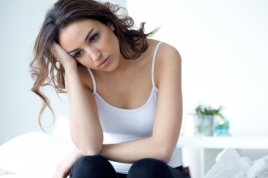 Divorce As A Growth Process
The Teen Guide
by Rayna Lumbard, MA, LMFT, MHT
From disbelief to belief in myself
From confusion to clarity
From rejection to redemption
From anger to self-empowerment
From problems to creative solutions
From victim to victorious
From blame to acceptance
A new life with opportunities for success, love, happiness, and inner strength!
Divorce could be a four-letter word. After all, it is a very difficult adjustment for each member of the family. It is an upsetting time in anyone's life, an especially unwanted or unplanned transition for children and teens whose healthy development is on the line. Adolescence is a stage of life already filled with many emotional and physical changes. Divorce creates an additional burden on growing minds and bodies .

(READ MORE)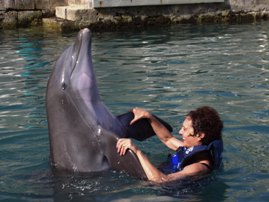 Connecting With the Dolphins
by Rayna Lumbard, MA, LMFT, MHT
My fascination with dolphins began in the '60's with Flipper, that adorable dolphin on television. This unique story about two brothers who live with their park ranger father in Coral Key Park, Florida touched the hearts of many people. The program centered mostly on how Flipper, their pet dolphin either saves one of them or helps them to save someone else from danger. This new animal (cetacean) on television was easy for many children, teens, and adults to love. I remember developing an emotional connection to this smart, magical dolphin hero. You may be curious about what is so special about dolphins. You may need to take a trip back in time to when you were a child, naturally full of wonder, laughter and love. ...

(READ MORE)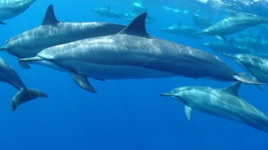 ADVENTURES IN PARADISE WITH DOLPHINS AND WHALES ~ SOUL LESSONS SAVED MY LIFE
by Rayna Lumbard, MA, LMFT, MHT
Since 2003 I have presented many talks, workshops, and playshops about dolphins and whales. I love sharing my own experiences from being in a multitude of dolphin and whale retreats. These offerings have truly inspired others to be fascinated with these creatures. Who wouldn't want to spend quality time with our fun, playful cousins of the sea? Many people these days have connected and swam with dolphins in many locations all over the world. We have shared amazing stories of dolphins rescuing people from harm or death, being birth coaches for happy moms, and giving many gifts to humanity. Some of us are blessed to bring forth or channel their healing sounds, embodying them and amazing energy, sonar, and songs. I am a healing facilitator who heard the "call", dedicating my life to serving humanity on the highest level possible. Thank you Dolphins and Whales for initiating me in the Dolphin Tribe in 1997, the beginning of my Dolphin Healing Adventures.

(READ MORE)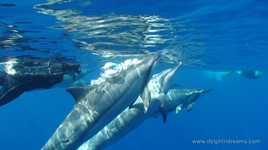 Healing Energetically with the Dolphins
by Rayna Lumbard, MA, LMFT, MHT
Being connected to dolphins is a blessed experience, whether it's in the water, in my mind, or working with clients in a healing context. Dolphins communicate a deep sense of peace, love, joy, and oneness with everyone and everything around them. Many people experience a profound healing of mind, body, emotions, relationships, career, and finances and start gliding through life as smoothly as the dolphins do. I highly recommend spending as much time as you can with these awesome cetaceans! Their intelligence, telepathic and echolocation abilities are inspiring and phenomenal. They are truly a gift from God, here to enlighten and assist us in transforming our planet.

(READ MORE)